The Management Console is the main point of interaction with the Cloud Failover Appliance (CFA). It allows configuring the CFA settings, viewing various status details of the CFA, configuring the protected clients, managing the backup data, initiating and restoring the jobs, and booting the backup jobs as VMs running on the CFA.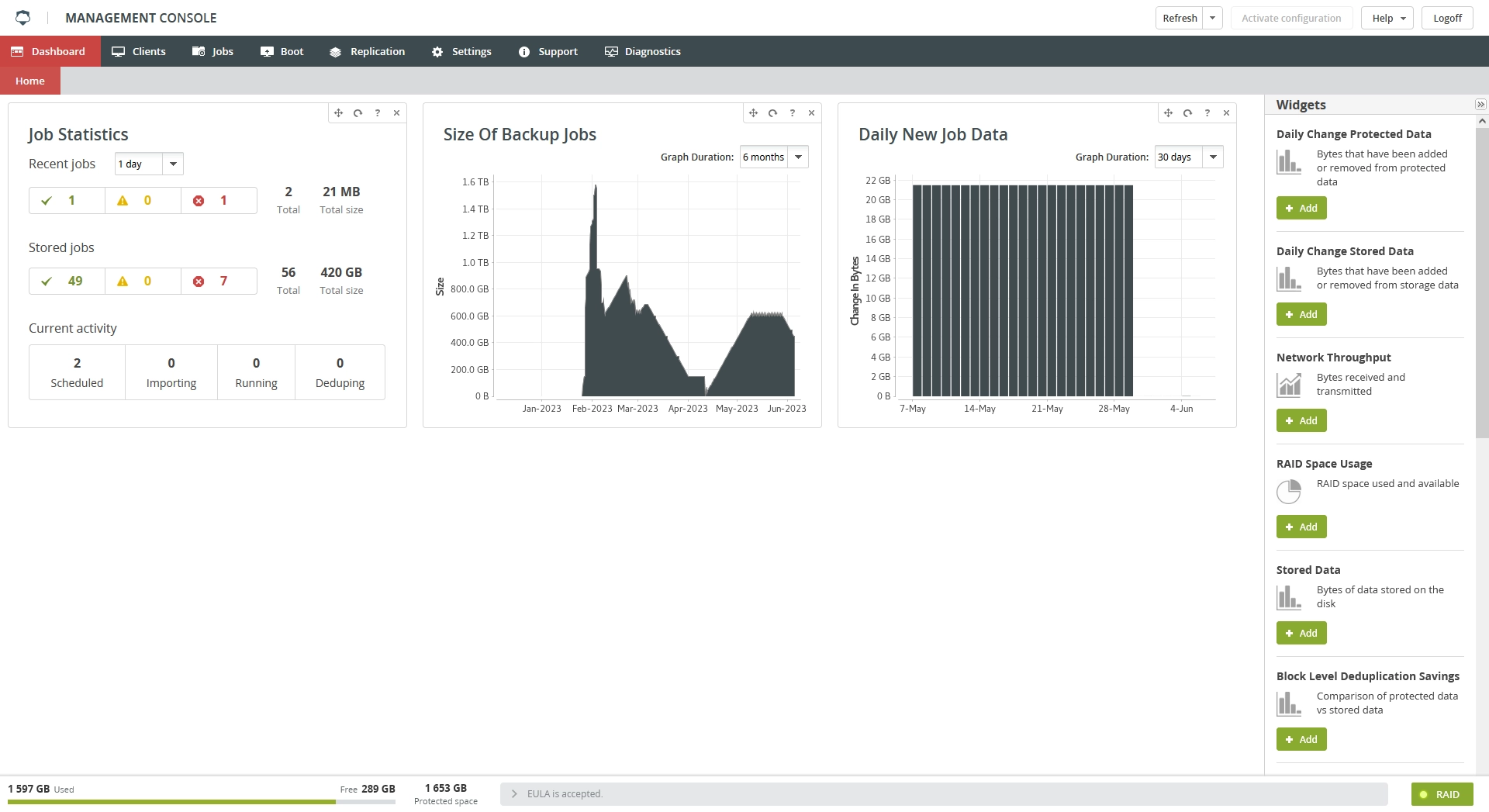 Dashboard tab
Use the Dashboard tab to view the statistics breakdown for the backup jobs, replication, disk space, and other CFA details.
Learn more about the Dashboard tab.
Clients tab
Use the Clients tab to view, configure, and manage the protected clients.
Learn more about the Clients tab.
Jobs tab
Use the Jobs tab to view and manage different types of the jobs.
Learn more about the Jobs tab.
Boot tab
Use the Boot tab to boot the DR image, VMware, or Hyper-V backups to mitigate consequences of a disaster.
Learn more about the Boot tab.
Archive tab
Use the Archive tab to view and manage the archive media connected to the CFA, to view the history of the archive jobs, and to manage automatic archiving, archive locations, and archive security settings.
Learn more about the Archive tab.
Replication tab
Use the Replication tab to configure the CFA for cloud or peer-to-peer replication of the backup data.
Learn more about the Replication tab.
Settings tab
Use the Settings tab to change the CFA settings and to view the monitoring details regarding the CFA.
Learn more about the Settings tab.
Support tab
Use the Support tab to open a technical support tunnel if needed, to view the CFA logs, or to submit a support request.
Learn more about the Support tab.
Diagnostics tab
Use the Diagnostics tab to view the detailed information about the CFA for diagnostic purposes.
Learn more about the Diagnostics tab.