To restore or export data backed up from Google Workspace within Infrascale Cloud Application Backup (CAB), follow these steps:
In the CAB Management Portal, click Recovery in the sidebar menu, and then click the Google Workspace backup task.

Find a user account to restore or export data for, and then click Next () in the Action column.

You can search for user accounts, or filter them by backup status.

Select the preferred choice for restore:

Via Snapshot

Set the date range to show all snapshots within this range, and then click Continue.

In the list of snapshots, select a snapshot to restore or export data from.

You can also restore or export specific items from snapshots. To browse a snapshot, click Explore () in the Action column, select one or more items, and then click Restore or Download.

Via Item Search

Select one of the available categories (Email, Documents, Contacts, Tasks, or Calendars) to search in.

In the Search for box, enter the search query, and then click Continue.

For Email, Documents, and Calendars, click More () to show the advanced search options.

In the search results, select items to restore or export.

Click Restore to recover the selected items, or click Download and specify the desired options to export the selected items.

When restoring, you can choose to restore data to a different user account.

For documents, you can also choose to restore data with or without the original sharing settings.

When exporting, data is archived in a ZIP file, which can be downloaded locally or exported to Amazon S3, Azure Blob, Google Cloud Platform, Box, or Dropbox.

You can choose the export format for the archived items—that is Standard (emails as .eml, tasks and calendars as .ical, and contacts as .vcf) or Outlook compatible .PST.

For emails, you have the option to include all deleted items in the restore archive.
After you initiate the restore or the download process, you can view its current status in the Restore & download status section.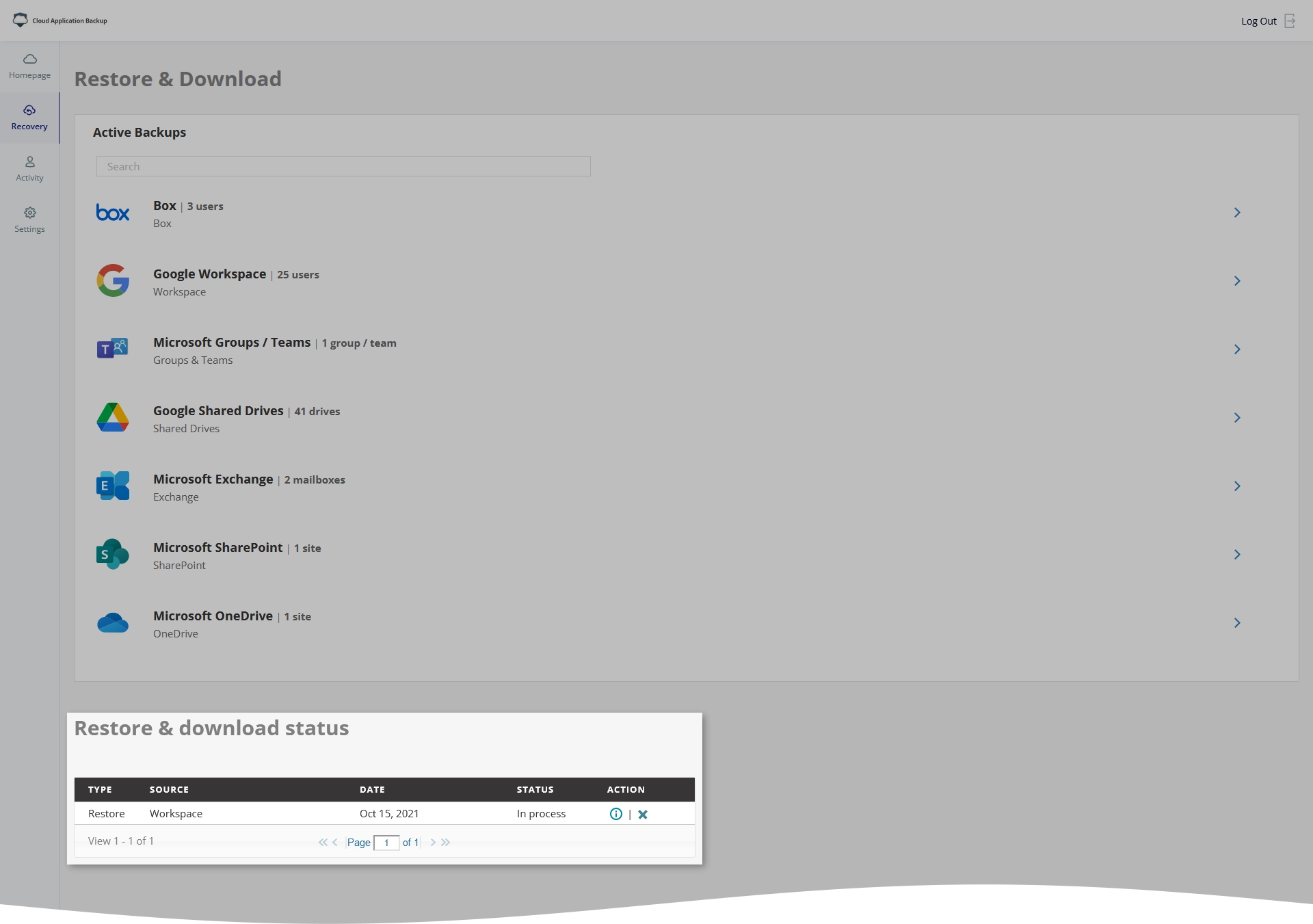 You can manage the process using the following special actions in the Action column:
| Action | Icon | Description |
| --- | --- | --- |
| Download | | Download exported data |
| Info | | View process details |
| Cancel | | Stop process |